Drew Wheaton
Drew is our tenor and is in his 21st year as a member of the Barbershop Harmony Society. He is currently the director of the Thoroughbred Chorus. Drew holds a bachelors degree in Music Theory from McGill University and a bachelors degree in Music Education and a Masters of Music in Choral Conducting from the University of Louisville. There he founded the new a cappella group, Cardinal Rule. Drew is a regular coach of both barbershop quartets and a cappella groups, and has been a clinician at Harmony University, Camp A Cappella, Kettering National A Cappella Festival, and various other a barbershop workshops. Drew is a Candidate Singing Judge in the Barbershop Harmony Society judging program. He also teaches private voice lessons, owns a learning track business at www.AKWRecording.com and lives in Louisville, KY with his wife, Kris.
Kevin Hughes
Kevin is our lead and brings with him a very musical background. His quartet experience includes some top finishes in the Cardinal District with Green Street Harmony and The Connection. He was the director of the Illini Statesmen Chorus and is a former member of the Banks of the Wabash Chorus. His singing experience has been shaped by music theater as he was awarded Best Actor in his moving portrayal of Tony in West Side Story. He works for Pavlov Communications and currently resides in Champaign, IL.
Aaron Hughes
Aaron is our baritone and has a long history of barbershop experience. He is currently a member of the Banks of the Wabash Chorus. His quartet experience includes multiple district championships including two Cardinal District wins with Wabash Avenue in 1998 and Keep Em Guessin in 2003. He also won in JAD in 2007 with TKO and has made sixteen international quartet contest appearances. He is also a barbershop coach and has served as the president of the Cardinal District Quartet Champions Association and as a Harmony Explosion Camp counselor. He is a Dean of Students at North Vigo High School and resides in Terre Haute, IN with his wife, Lynn, two dogs and three cats.
Brian O'Dell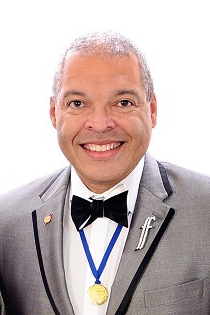 Brian is our bass and provides a nice foundation for the quartet. His big bass voice has been shaped by years of chorus and quartet experience including the 2001 JAD quartet champions, Matrix, which also placed as high as ninth in multiple international competitions. He was a section leader for the internationally ranked Alliance Chorus from Columbus, Ohio. Brian is a Candidate Presentation Judge in the Barbershop Harmony Society judging program. Brian shares his love of singing as a counselor in the JAD Harmony Camp every year, coaches many quartets and teaches classes in various barbershop societies from all over the world. He works as IT for a physician's group and resides in Columbus, OH.